Friday, March 28, 2008
Why not take your kids to...

...the nightmare playgrounds.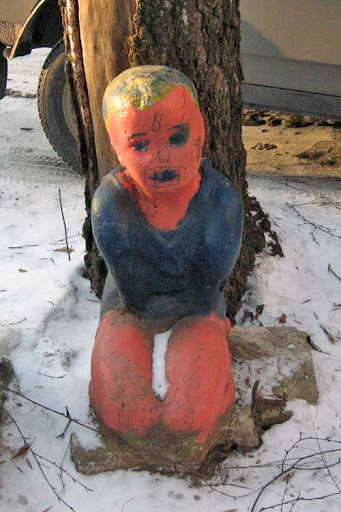 Tuesday, March 25, 2008

Above is a photo I took when I did my first visit to a film set a couple of weekends ago, in a wood near Hemel Hempstead. ARK is a short film directed by Mal Woolford, produced by Andrea Thornton and written by me. The idea was to come up with something that could be shot in one continuous take, that would do what all good stories must do but without relying on dialogue. I think the result will be something special. The film features Simone Lahbib of WIRE IN THE BLOOD and BAD GIRLS fame and her husband Raffaello Degruttola, and giving them some character guidance was about all I could offer. That and pushing the van, which got stuck in mud a lot. There was a bunch of other people in involved who you'll be able to see on IMDB once the film gets a listing. They were all very cool and welcoming to this writer who didn't really have any business being there. Even when I knocked the Steadicam over. Just kidding.

Anyway, I'll let you know how ARK pans out. I really hope you get to see it because there's a hell of a lot of good stuff going into it.
Monday, March 10, 2008
Had a good time in Brussels last week at the book fair. Wow, do those guys have strong beer. And chocolates. Book fair-wise, it was mightily impressive. A huge building, a ton of books and an endless flow of people who care about them. Thank you to Hubert Artus for inviting me. And it was great to meet other writers such as Antoine Chainas and JP, and catch up with Aurélien the rock 'n roll editor.

Are you in France? Check out the current issue of l'Optimum magazine. Inside you will find a feature (by the aforementioned Monsieur Artus) on UK authors Mark Billingham, Chris Cleave, Alex Wheatle and yours truly. There is a great big photograph of we four sitting in a Hackney boozer, drinking Guinness.

Oh yeah, and check out my new novel in French DES CLOPES ET DE LA BINOUZE (translated by Thierry Marignac).