You, the readers, are very important to me. That is why I only give you the freshest content, the most in-depth interviews, the sleaziest photographs, etc. Continuing in this tradition I want to present to you here, as a WORLD EXCLUSIVE, the cover art for Bruen and Starr's upcoming novel from Hard Case Crime, BUST...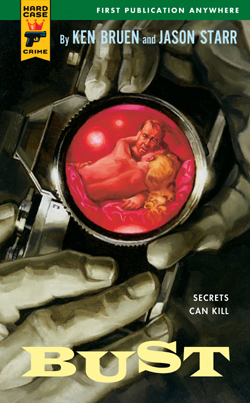 Is that a beauty or what? I can't get enough of
HCC's pulp covers
, and this one is right up there. As you probably already know, Ken Bruen and Jason Starr are the Siegried and Roy of the noir world. No, no... er, they're the Torville and Dean of... Ah, they're Bruen and Starr, and their books are quite simply
where it's at
, noir-wise.
BUST comes out in the Spring of 2006, so look out for it.
08/08/05 update: Cover slightly changed (reflected above). Spot the diff!